Wednesday, April 24, 2013
Tuesday, April 23, 2013
http://youtu.be/mwk6fMtoHaA
Published on

Apr 23, 2013
http://b4in.info/h2Pd
- That's right boys and girls. Just one more thing from the NRC FOIA documents pertaining to Fukushima that the troll dens and shill networks won't tell you.
What we find in this particular case is that President Obama called for several studies to be done following the meltdowns in Japan. Obama knows all about the SFP levels that have been accumulating over the years that are now at all-time dangerous levels. He knows all about the SFPs that are NOT earthquake ready.
But Obama and others in positions of authority simply choose NOT to act on it. Just like President Obama and multiple alphabet agencies did with the knowledge of the radioactive plume and fallout heading for America back in March of 2011.
Again, there is a full-court-press-information-blackout among all sectors of media in regards to the information contained within the NRC Freedom of Information Documents. Two years have elapsed and the massive government and industry orchestrated cover-up that has resulted in an estimated 65,000+ AMERICAN fatalities, all proven in the NRC FOIA documents, has gone unnoticed. Estimates range as high as 1.3 million deaths by the year 2030.
To experience this blackout firsthand, simply forward my NRC FOIA screencaps around and see how they are ignored. I have plenty at my wordpress blog 'Uncovering Plume-Gate' here:
http://plumegate.wordpress.com/
And please read the Robert Alvarez study "Spent Nuclear Fuel Pools in the U.S.: Reducing the Deadly Risks of Storage"...you will be shocked:
http://www.ips-dc.org/reports/spent_n...
http://youtu.be/Z3ZL9QCLM_M
Published on

Apr 23, 2013
http://neo.jpl.nasa.gov/orbits/epoxi1...
YES WE ALL FELL FOR THE FALSE FLAGS THESE LAST COUPLE YEARS WITH ELENIN & THE MAYAN CALENDAR , BUT YOU GOT TO ADMIT THAT 2011 WAS A CRAZY YEAR SOMETHING WAS GOING ON FOR US NOT TO SAY "NOTHING'S WRONG HERE" , NO INSTEAD WE PRESSED ON FOR THE TRUTH.TOO MANY SIGNS PEOPLE TO SAY OUR PLANET IS NOT CHANGING RAPIDLY.THERE MUST BE A CAUSE TO THE CAOS.WE ALL TURNED INTO OUR OWN GOVERNMENTS AND SCIENTIST LOL AND YET WE REPORTED THE TRUTH AS MUCH AS WE CAN AROUND THE PLANET ON WHATS GOING ON.NO HELP FROM OUR SO CALLED TRUSTED MEDIA TO REPORT NOTHING.THERE HAS TO BE A CAUSE FOR OUR GOVERNMENTS TO GIVE US THESE SIGNS IN THE MOVIES ON THE COMMERCAILS ON AD'S IN OUR GOVERNMENTS ACTIONS IN THE MOVIE 2012 THEIR STARTED OUT WITH SINK HOLES OR CRACKS IN THE EARTH AS A SIGN OF WHATS TO COME THEN IT STARTED AS A THIEF IN THE NIGHT WITH NO WARNING THE POLES STARTED SHIFTING.EARTH JUST DOESNT GO INTO A POLE SHIFT JUST CAUSE THERE AS A CAUSE TO THE SHIFT.WE SEE THE SIGNS IN THE WEATHER CHANGE AND ANIMAL DIE OFF'S WORLD WIDE THE END IS NEAR.
http://youtu.be/8CV1m5AWL0g
Published on

Apr 23, 2013
Antibiotic-resistant bacteria are now common in the meat aisles of American supermarkets... These so called 'super bugs' can trigger foodborne illnesses and infections that are hard to treat...
WEBSITE: ewg.org
SOURCE CREDIT: the environmental working group
ARTICLE LINK:
http://www.ewg.org/meateatersguide/su...
http://youtu.be/laR14QFuGVc
Published on

Apr 22, 2013
RE UPLOAD and SHARE! You do not need to reference me. I want no credit.
The ATF and FBI are currently cleaning up all the evidence of the attack on West Fertilizer by the Missle Defense Agency of the Department of Defense of the US Government. Sheriffs need to KICK THEM OUT and start an independent investigation. There is enough evidence in this video to warrant such actions. President Obama, Sec Def. Chuck Hagel and Admiral Syring of the US Navy need to be seized and questions. Sheriffs have the power to do such that... The only place they are safe is in the ten miles square of DC.... That is it. Sheriffs run THEIR courthouses... Sheriffs KICK YOU OUT of your homes... If the Sheriff was truly righteous... He/She would maintain his/her jurisdiction and authority. NOT abdicating to the FEDS. The Boston fiasco was the soke and mirrors so you would not see the truth in this BOMBING of American Citizens... some FIREFIGHTERs. I thought we praised those people?
Time is running out. RE UPLOAD and SHARE! Disable rating on your re upload. They may be using the LIKES and DISLIKES as a beacon to quiet dissension. In TRUE NAZI FASHION.... or should I say Jesuit... Or Zionist... Or Satanist...?
Send to any Sheriff you know! Call LOCAL radio stations and talk about it. Do what you can.
Test Missle in Colorado
http://www.kktv.com/home/headlines/Te...
Missle Defense Agency MDA
http://www.mda.mil/system/system.html
MDA Director Admiral Syring
http://www.navy.mil/navydata/bios/nav...
http://youtu.be/nXg2WsNCrW4
Apr 24, 2012 by alisonserr
The government has declared it can lock anyone up forever or kill them without any proof or due process. DHS has placed an order for 450 million rounds of Hollow Point ammo. Obama can now declare martial law during peace time. I think that just about says it all.
"We are Preparing for Massive Civil War," Says DHS Informant
http://current.com/community/93765251...
...
"If you don't fight for your rights, they don't exist. Our constitution doesn't mean a damn thing if we the people don't stand up for it." Or just go back to sleep. Maybe we'll get adjoining cells one day if we're still alive anyway.
Download:
http://www.sendspace.com/file/w8ru5n
http://www.sendspace.com/file/4r1wq5
http://www.sendspace.com/file/x7e17t
http://www.sendspace.com/file/8zsrbt
Download the four files and run the exe to merge the three pieces back together.
DISCLAIMER: This video contains copyrighted material and is used for educational purposes ONLY. I make no claim to any material used within the video. All copyrighted materials belong to their respective owners.
"This video is fair use under U.S. copyright law because it is (1) non-commercial, (2) transformative in nature, (3) uses no more of the original work than necessary for the video's purpose, and (4) does not compete with the original work and could have no negative affect on it's market."
http://youtu.be/2t8JQLJVED8
a soldier claims she has trained with California police to set-up checkpoints and force vaccinations on the public. Those who refuse will be boarded on a bus and taken to a concentration camp. She includes a photo of an RFID device she claims will be used to track people and materiel. She says the military and police will use electronic bracelets to track the vaccinated.
http://youtu.be/U5Frqm5dGDI
Published on

Jul 13, 2012
1990s Illuminati Game Cards
Still Creating Controversy
From Wikipedia
11-21-11
Overview Of The Game
Illuminati is a standalone card game made by Steve Jackson Games (SJG), inspired by The Illuminatus! Trilogy by Robert Anton Wilson and Robert Shea. The game has ominous secret societies competing with each other to control the world through sinister means, including legal, illegal, and even mystical. It was designed as a "tongue-in-cheek rather than serious"[1] take on conspiracy theories. It contains groups named similarly to real world organizations, such as the Society for Creative Anachronism.[2] It can be played by two to eight players. Depending on the number of players, a game can take between one and six hours.
Genesis Of The Game
In September 1981, Steve Jackson and his regular freelance cover artist Dave Martin discussed their shared admiration of the Illuminatus! Trilogy, and the latter suggested a game. Steve Jackson decided against adapting the novel because of the expense of game rights, and the difficulty of adapting a novel with such convoluted plots. He decided "a game about the secret-conspiracy idea behind Illuminatus!" was doable.
After doing research on the Illuminati and conspiracy theories, and "extensive and enthusiastic playtesting" it went on the market in July 1982 in the Pocket Box format (a plastic box the size of a mass-market paperback) which was at the time the usual for SJG. Over the next few years, three expansions for the Pocket Box Illuminati game were published-the first two were substantially incorporated into the deluxe edition, while the third was an earlier version of what would become Illuminati: Brainwash.
Robert Shea provided a four-paragraph introduction to the rulebook for the Illuminati Expansion Set 1 (1983), in which he wrote, "Maybe the Illuminati are behind this game. They must be-they are, by definition, behind everything." Despite this initial involvement, Wilson later criticized some of these products for exploiting the Illuminatus! name without paying royalties (taking advantage of what he viewed as a legal loophole).[3] Later commentators have attributed both the game and the Illuminatus! Trilogy as using real conspiracies as "targets of ridicule."[4]
http://en.wikipedia.org/wiki/Illumina...
see the video of illuminati card game:
http://www.youtube.com/watch?v=U5Frqm...
http://youtu.be/QWaZNsYuJMs
Published on

Apr 22, 2013
We all can see these cards reveal a whole series of events that truly all happened or are in full motion , we have to take these cards serious because they are telling us their agenda's allthough i'm convinced that some cards are confusing or fearmongering which i do not support , but nevertheless there is much truth in the cards.
Monday, April 22, 2013
http://youtu.be/sEO8C_W5Ugk
The words of Mr. Yuri Bezmenov, a former Soviet KGB agent. He is a defector. He was interviewed with regard to the demoralization process undertaken by the Soviet Union in the United States in the last half of the twentieth century.
Mr. Bezmenov explains:
Bezmenov: But in reality, the main emphasis of the [Soviet Russian] KGB is not in the area of intelligence and all.
According to my opinion and the opinion of many defectors of my calibre . . .
Only about 15% of time, money, and manpower is spent on espionage, as such. The other 85% is a slow process which we call either ideological subversion or active measures, [a Russian word] in the land of the KGB, or psychological warfare.
What it basically means is to change the perception of reality of every American to such an extent that, despite the abundance of information, no one is able to come to sensible conclusionsi in the interest of defending themselves, their families, there community, and their country.
It's a great brainwashing process which goes very slow and is divided in four basic stages the first one being . . .
Demoralization.
It takes from 15 to 20 years to demoralize a nation. Why that many years? Because this is the minimum number of years [it] requires to educate one generation of students in the country of your enemy; exposed to the ideology of the enemy. In other words Marxism-Leninism ideology is being pumped into the soft heads of at least three generations of American students without being challenged or counterbalanced by the basic values of Americanism; American patriotism.
The result? The result you can see. Most of the people who graduated in the [19]60s, dropouts or half-baked intellectuals, are now occupying the positions of power in the government, civil service, business, mass media, educational system. You are stuck with them. You cannot get rid of them. They are contaminated. They are programmed to think and react to certain stimuli in a certain pattern.
You cannot change their mind, even if you expose them to authentic information. Even if you prove that white is white and black is black. You still cannot change the basic perception and illogical behavior. In other words, [in] these people, the process of demoralization is complete and irreversible. To get rid (sic) society of these people you need another 20 or 15 years to educate a new generation of patriotically minded and common sense people who would be acting in favor and in the interests of the United States society.
INTERVIEWER: And yet these people have been programmed, and as you say, in place who are favorable to an opening with the Soviet concept. These are the very people who would be marked for extermination in this country?
Bezmenov: Most of them, yes. Simply because the psychological shock when will see in the future what the beautiful society of equality and social justice means in practice. Obviously they will revolt. They will be very unhappy, frustrated people. And [a]Marxist-Leninist regime does not tolerate these people. Obviously they will join the leagues of dissenters; dissidents.
Unlike in [the] present United States, there will be no place for dissent in future Marxist-Leninist America. Here you can get popular like Daniel Ellsberg, and filthy rich like Jane Fonda for being dissident, for criticizing your Pentagon. In the future these people will be simply squashed like cockroaches. Nobody is going to pay them nothing for their beautiful, noble ideas of equality. This they don't understand, and it will be greatest shock for them, of course.
The demoralization process in the United States is basically completed already. For the last 25 years. Actually it's over fulfilled, because demoralization now reaches such areas were previously not even Comrade Andropov and all his experts would even dream of such a tremendous success. Most of it is done by Americans to Americans thanks to lack of moral standards.
As I mentioned before, exposure to true information does not matter anymore. A person who is demoralized is unable to assess true information. The facts tell nothing to him. Even if I shower him with information, with authentic proof, with documents, with pictures. Even if I take him by force to the Soviet Union and show him concentration camps, he will refuse to believe it, until he is going to receive a kick in his fat bottom. When a military boot crashes his [posterior]. Then he will understand, but not before then.
That's the tragic [nature] of the situation of demoralization.
Evolution and the Decline of America! -
http://www.youtube.com/watch?v=I_EW0P...
http://youtu.be/TsYecN0AJ9c
Published on

Apr 22, 2013
Full Story: http.info/r2MD
After giving the Feds until Monday to come clean, Glenn Beck breaks exclusive information on the Saudi National first identified as a Boston Bombings suspect.
Today, Glenn Beck revealed exclusive information on the continuing government cover up of the Saudi National's ties to the Boston Bombings, including revelations the government altered Abdul Rahman Ali Alharbi file over the weekend.
Beck revealed among many things, Alharbi was given a passport into the United States despite the fact he had been flagged as a terrorist with a 212 3B classification and is on the federal government's no fly-list.
This new information comes on the tail of previous reports Alharbi is a member of a very powerful ruling family of the Saudi Arabian government, a clan which also has many known members of Al Qaeda.
========================================
­=
Stay up to date with the latest news:
Twitter:
https://twitter.com/#!/kr3at
Facebook:
http://facebook.com/AlexanderHigginsBlog
Google Plus
https://plus.google.com/u/0/109380553...
Before It's News:
http://beforeitsnews.com/r2/?url=/r2/...
========================================
­=
Michael Snyder is the publisher of
The
Economic Collapse Blog
,
am.com/\" rel="nofollow" target="_blank" >The American Dream Blog
and
The Truth
.
You can follow him on Twitter
right here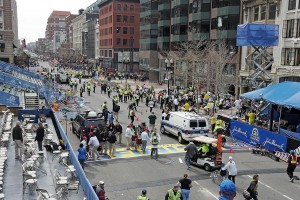 Will we ever learn the full truth about the Boston Marathon bombing? Personally, I have been looking into this attack for days, and I just keep coming up with more questions than answers. At this point, I honestly have no idea what really happened. Why was a bomb drill being held on the day of the attack? Why have authorities denied that a bomb drill was taking place? Were Tamerlan and Dzhokhar Tsarnaev acting alone? What was the nature of their previous contacts with the FBI and other federal agencies? Why did the FBI at first deny that they had been in contact with the Tsarnaev brothers previously? Why was the investigation of a mysterious Saudi national with familial links to al-Qaeda suddenly dropped shortly after the Saudi ambassador held an unscheduled meeting with Barack Obama? Why did Michelle Obama subsequently visit that mysterious Saudi national in the hospital? If you are looking for answers to these questions, I am afraid that I don't have them at this point. But what alarms me is that the mainstream media seems to be afraid to ask any of the hard questions that they should be asking. They just seem to swallow whatever the authorities tell them hook, line and sinker without following up on any of the things in this case that simply do not seem to make sense.
So what kinds of questions should they be asking? The following are 17 unanswered questions about the Boston Marathon bombing that the media appears to be afraid to ask…
#1
Why were runners being told that a bomb squad drill was taking place during the Boston Marathon? The following is from an article
by Natural News
…
Alastair Stevenson is a veteran marathon runner who has competed in dozens of marathons around the world, including the London Marathon. He's very familiar with the security typically found at marathons, and he immediately noticed something odd about the Boston marathon security.
"They kept making announcements on the loud speaker that it was just a drill and there was nothing to worry about. It seemed like there was some sort of threat, but they kept telling us it was just a drill," he was quoted as saying by Local15TV.com.
In the interview, you'll hear Stevenson say:
"At the start at the event, at the Athlete's Village, there were people on the roof looking down onto the Village at the start. There were dogs with their handlers going around sniffing for explosives, and we were told on a loud announcement that we shouldn't be concerned and that it was just a drill. And maybe it was just a drill, but I've never seen anything like that — not at any marathon that I've ever been to. You know, that just concerned me that that's the only race that I've seen in my life where they had dogs sniffing for explosions, and that's the only place where there had been explosions."

#2
Why did authorities deny that a bomb squad drill was being held?
#3
According to
The Mirror
, the FBI is reportedly "hunting" a 12-strong terrorist "
sleeper cell
" that Tamerlan and Dzhokhar Tsarnaev were allegedly a part of…
A source close to the investigation said: "We have no doubt the brothers were not acting alone. The devices used to detonate the two bombs were highly sophisticated and not the kind of thing people learn from Google.
"They were too advanced. Someone gave the brothers the skills and it is now our job to find out just who they were. Agents think the sleeper cell has up to a dozen members and has been waiting several years for their day to come."

If that is the case, why are authorities in Boston adamantly insisting that the two brothers were acting alone?
#4
CBS News
is reporting
that the FBI interviewed Tamerlan Tsarnaev back in 2011. The mother of the two Tsarnaev brothers insists that the FBI had been in contact with them
for up to five years
. At first, the FBI denied any previous contact with the two suspects. Will we ever learn the true scope of the previous relationship between the FBI and the Tsarnaev brothers?
#5 Debka is reporting that the Tsarnaev brothers were "double agents" which had been "hired by US and Saudi intelligence to penetrate the Wahhabi jihadist networks which, helped by Saudi financial institutions, had spread across the restive Russian Caucasian." Could this possibly be true? If so, will the American people be told the truth about these links?

#6
According
to their uncle
, there were "mentors" that "radicalized" the Tsarnaev brothers. So precisely who were those "mentors"?
#7
What happened during Tamerlan Tsarnaev's trip
to Dagestan and Chechnya
last year?
#8
Were the Tsarnaev brothers in contact with a rebel leader named
Doku Umarov
who is known as "Russia's Bin Laden"?
#9
Did Tamerlan Tsarnaev
post a video on YouTube last summer
that expresses a belief that the 12th Imam, Mahdi, will soon come and that an Islamic army with black flags with arise out of a province in Iran known as Khorasan?
#10
Why aren't we being told that the "pressure cooker bombs" used in the Boston Marathon attacks are very similar to the kind of pressure cooker bombs that are commonly used
in the Middle East?
…
The Daily Beast has confirmed with U.S. counter-terrorism officials that the bombs placed Monday at the marathon were made from pressure cookers, a crude kind of explosive favored by insurgents in Pakistan and Afghanistan. A recipe for a bomb that uses the pressure cooker was part of the debut issue of Inspire, the English-language online magazine of al Qaeda in the Arabian Peninsula.

#11
Initially we were told that Saudi national Abdulrahman Ali Alharbi was a "person of interest" in the case. But now he is scheduled
to leave the country
with the full blessing of the U.S. government. Why is there such a rush to get him out of the United States?
#12
Why aren't we being told that Abdulrahman Ali Alharbi was photographed
with two other Saudis
in the vicinity of the Boston marathon bombings?
#13
Why aren't we being told of the shocking familial links that Abdulrahman Ali Alharbi has to known members of al-Qaeda? The following is from research complied
by Walid Shoebat
…
Many from Al-Harbi's clan are steeped in terrorism and are members of Al-Qaeda. Out of a list of 85 terrorists listed by the Saudi government shows several of Al-Harbi clan to have been active fighters in Al-Qaeda:
#15 Badr Saud Uwaid Al-Awufi Al-Harbi
#73 Muhammad Atiq Uwaid Al-Awufi Al-Harbi
#26 Khalid Salim Uwaid Al-Lahibi Al-Harbi
#29 Raed Abdullah Salem Al-Thahiri Al-Harbi
#43 Abdullah Abdul Rahman Muhammad Al-Harbi (leader)
#60 Fayez Ghuneim Humeid Al-Hijri Al-Harbi
Source: http://aalhameed1.net/vb/showthread.php?t=1565
Then you have Al-Harbi clan members in Gitmo:
Salim Salman Awadallah Al-Sai'di Al-Harbi
Majid Abdullah Hussein Al-Harbi
Muhammad Abdullah Saqr Al-Alawi Al-Harbi
Ghanem Abdul Rahman Ghanem Al-Harbi
Muhammad Atiq Uwaid Al-Awfi Al-Harbi
Source: http://www.muslm.net/vb/showthread.php?169019-أسماء-(90)-سعودياً-لا-زالوا-محتجزين-في-جوانتانامو
There are specific Saudi clans that are rife with members of Al-Qaeda, which makes it quite alarming as to why nearly a hundred thousand student visas are issued to these. Americans are clueless as to clan ties when it comes to terrorism.

#14
Why did U.S. Secretary of State John Kerry
have a private meeting
with a Saudi foreign minister shortly after Abdulrahman Ali Alharbi was identified as a potential suspect?
#15
Why did Barack Obama
hold an unscheduled meeting
with the ambassador from Saudi Arabia shortly after Abdulrahman Ali Alharbi was identified as a potential suspect?
#16
Why did
Michelle Obama
visit Abdulrahman Ali Alharbi in the hospital?
#17
Why did numerous mainstream media outlets openly suggest that "
right-wing extremists
" were behind the bombings in the immediate aftermath of the attack?
Are there any other unanswered questions that you would add to this list? Please feel free to share your thoughts by leaving a comment below…
Michael Snyder is the publisher of
The
Economic Collapse Blog
,
am.com/\" rel="nofollow" target="_blank" >The American Dream Blog
and
The Truth
.
You can follow him on Twitter
right here